You are here Home > Travel Information

Travel Information
travel information monarca open
IF YOU NEED INFORMATION OR REQUEST SPECIAL NEEDS PLEASE CONTACT: alas@alas.com.mx

SHUTTLES FROM MEXICO CITY INT. AIRPORT-VALLE DE DE BRAVO
We have organize shuttle form Mexico City Airport to Valle de Bravo

1-2 pilots
Free Toll $1,900
Toll Highway $2,300

3-4 pilots
Free Toll $2,900
Toll Highway $3,300

5-8 pilots
Free Toll $3,900
Toll Highway $4,300

MXN Mexican Peso

Please contact:
RICARDO TOVAR (MONARCA OPEN Transportation coordinator)
tovr76@hotmail.com
CELL PHONE: 5546165829



BUSES TO VALLE DE BRAVO FROM MEXICO CITY
Please consult www.autobusesmexico.com/en




VALLE DE BRAVO HOTELS

AIRBNB
Airbnb Accomodation Valle de Bravo Airbnb Valle de Bravo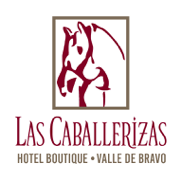 Las Caballerizas. Hotel Boutique Valle de Bravo
Las Caballerizas Hotel Boutique has a large variety of rooms for all needs.
We want your stay to be recorded in your memory as a getaway without obligations, in an environment where it is possible to enjoy the silence and the forgotten sounds of nature, a relaxing stroll, an exhilarating dip in the heated pool or simply, the pleasure of doing nothing contemplating our beautiful garden

Vega del LLano No. 11 Avándaro,
Valle de Bravo, Estado de México
Tel. +52 (726) 266-0757
Tel +52 (726) 266-0849
E-mail: reservaciones@hotellascaballerizas.mx
www.hotellascaballerizas.mx

See Rates
SPECIAL DISCOUNT FOR MONARCA PILOTS: Las Caballerizas Hotel Boutique offers 50% discount on published rates.





Simple, clean and well kept house, on the way to the Peñon takeoff.
Includes: 2 bedrooms (4 beds), equipped kitchen, bathroom, living room with fireplace, patio. Water, light and gas.
It is located in Cuadrilla de Dolores, 200m from the Jovan restaurant and where many taxis pass.
Share entry with Rancho Piedras Duras.
Price: 1000 pesos / day (house).
Cleaning service (charged separately): 150 pesos / day

Mail: piero_gavinelli@hotmail.com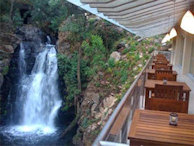 HOTEL MISIÓN REFUGIO DEL SALTO
Address: Fontana Brava s/n Col. Avandaro, C.P. 51200
Mision Refugio del Salto is a unique hotel. It features a beautiful natural waterfall and thousand-year-old trees, witnesses to the history of Valle de Bravo. Our rooms and chalets beautifully decorated, our restaurants and delicious food will make your pleasure or business trips a new and pleasant experience.

Reasons to Stay with Hoteles Mision:
Hotels are equipped for business travel
Abundant event and meeting space
Historically preserved buildings
Access to numerous attractions and recreation activities
Placed in convenient locations near airports for easy travel
Knowledgeable and friendly staff
Affordable rates
Special Rates for pilots and participants on the Paragliding World Cup Super Final

Rates: $1,450 pesos + taxes ALL WEEK





ARAWI HOTEL BOUTIQUE
Vergel 2, Colonia Centro. Valle de Bravo, Mexico. Tel. 52 7262623109
Arawi Hotel Boutique is a synonym of indulgence and elegance. With a unique location, situated at the historical center of Valle de Bravo, and built over an ancient house equipped refurbished for your total comfort, staying here is nothing short of an exceptional experience. This singular hotel was specifically designed to merge with one of the best bookstores in Mexico and Latin America. In short, Arawi Hotel offers the perfect space to relax on our wonderful terrace as you enjoy the best cup of coffee in town, while reading a newspaper or a book, or simply relaxing after having wandered around after visiting our beautiful Magic Town.

Mail: contacto@arawihotelboutique.com.mx
Website: arawihotelboutique.com.mx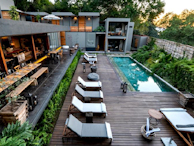 CASA CHICHIPICAS HOTEL BOUTIQUE
Chichipicas S/N, Colonia Centro. Valle de Bravo, Mexico. Tel. 52 7262626885
At Casa Chichipicas Hotel Boutique we mix the elements of nature with contemporary design architecture, to offer you an experience of comfort and tranquility, in a destination surrounded by forest and adventure, you will feel at home. Check full information here.

Mail: contacto@casachichipicas.com
Website: casachichipicas.com









POSADA CHELITA
Address: 16 de Septiembre #506
Simple, clean and well kept. Swimming pool in central patio. Close to the town´s bus station. WiFi.
Rates (per person/per night): Capacity: 44 guests. Room 1: 2 double sized beds, 2 single beds, 6 persons, 900 pesos Room 2: 1 double sized bed, 2 persons, 400 pesos Room 3: 1 double sized bed, 2 persons, 400 pesos Room 4, 1 double sized bed, 2 persons, 400 pesos Room 5: 1 double sized bed, 2 persons, 400 pesos Room 6: 2 double sized beds, 4 persons, 650pesos Room 7: 1 double sized bed and 1 single bed, 3 persons, 500 pesos Room 8: 2 double sized beds, 4 persons, 650 pesos Room 9: 1 double sized bed and 1 single bed, 3 persons, 500 pesos Room 10: 2 double sized beds, 4 persons, 650 pesos Room 11: 2 double sized beds, 4 persons, 650 pesos Room 12: 1 double sized bed and 2 single beds, 4 persons, 650 pesos Room 14: 1 double sized bed, 2 persons, 400 pesos Room 15: 1 double sized bed, 2 persons, 400 pesos Room 16: 1 double sized bed, 2 persons, 400 pesos Room 17: 1 double sized bed, 2 persons, 400 pesos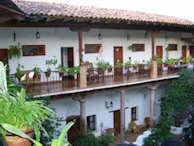 POSADA CASA VIEJA
Address: Av. Juárez # 101
Nice old town building with clean, fairly big rooms, one block from the main square. WiFi.
Rates (per person/per night): 2 Rooms with 2 Single beds: $ 636.00 pesos 3 Rooms w/ Double size bed: $780.00 pesos 3 Rooms w /King Size bed: $924.00 pesos 1 Room with 1 Double size bed and 1 Single bed: $924.00 pesos 2 Rooms with 1 Double size bed and 2 Single beds: $1,008.00 pesos 1 Room with 2 double sized beds and 1 sinlge bed: $1,212.00 pesos 1 Room with 1 Double size bed and 3 Single beds (w/fireplace): $1,428.00 pesos








HOTEL SAN JOSE
Address: San José # 103
Pretty town house with veranda and garden that makes you feel at home. Some rooms have kitchenette, sitting area and big closets. WiFi
Rates (per room/per night): 5 rooms, wireless internet, each room has kitchenette and mini bar fridge except for single room. 2 Rooms 1 double size bed / 1 single bed (2 persons): 1,200 pesos 1 Room w /double size bed (1 person): 600 pesos 1 Room w /King Size bed (1 person): 950 pesos 1 Room 2 double size beds / 1 single bed (3 persons): 1,450 pesos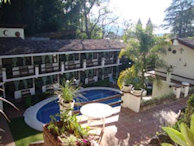 HOTEL DALINDA
Address: 16 de Septiembre # 102
Very well kept and quiet hotel at the top of a steep little town street. Rooms with two double beds. WiFi. Big Plus: the pool and garden
Rates (per night): 16 rooms, green areas, pool, parking, wireless internet. Double room w/ 2 double sized beds (2 persons): 1,000 pesos Room with 1 double size bed (1 person): 800 pesos Room with king size bed (1 person): 1,000 pesos









HOTEL CASA NUEVA
Address: Plaza Independencia # 5
Stylish Mexican hotel right off the main square offering good beds in high ceiled rooms. Veranda and inner courtyard with beautiful plants and various sitting areas.
Rates (per person/per night): (Total of 9 Rooms) 5 Rooms with double size bed $ 480.00 pesos 3 Double Rooms with 2 double sized beds $ 680.00 pesos 1 Suite w/double size bed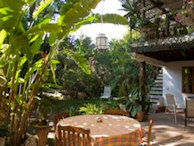 MESON DE LEYENDAS
Address: Bocanegra # 405
Beautiful historic buiding with lush tropical garden. Stylish Mexican rustic decoration. All rooms have TV, mini fridge, microwave, coffee maker and security box. Family run and famous for the breakfast buffet included in the price. WiFi.
Rates (per person/per night): Our rates include breakfast buffet. Taxes are NOT included. Standard Rooms: 1, 2 & 3 1 person $1000 MXN 2 persons $1350 MXN 3 persons $1500 MXN 4 persons $1650 MXN Superior deluxe: 4, 5, 6, 7, 8, 9 &10 1 person $1300 MXN 2 persons $1650 MXN 3 persons $1800 MXN 4 persons $1950 MXN 5 persons $2100 MXN 6 persons $2250 MXN








CASA ABIERTA
Address: Coliseo # 107
Set in an old town house this cultural center offers a series of bright, nice rooms. You may use the living and conference rooms and patio. Cafeteria service available. WiFi.
Rates (per night): 1 Room with 2 single beds (2 persons): 750 pesos 1 Room with 1 double size bed (1 person): 600 pesos 1 Room with 2 double sized beds and sofa bed (3 persons): 1,000 pesos 2 Identical Rooms with double size bed (shared bathroom) (2 persons): 600 pesos 1 Room with 3 single beds (3 persons): 950 pesos 1 Room with 2 double sized beds and sofa bed (3 persons): 1,000 pesos 1 Room with 1 double size bed (large room) (1 person): 700 pesos 1 Room with 3 single beds (3 persons): 1.000 pesos 1 Room JR: Suite w/King Sise Bed (1 person): 1,000 pesos





LA CASA DEL RÍO
Address: Fontana Brava #7
Beautiful Bed & Breakfast next to a mountain river between Valle de Bravo and Avandaro. Six rooms with private bathroom and fireplace.
Rates (per night): Double occupancy US$ 100; Triple occupancy US$ 130; Suite US$ 135 - Extra person US$ 32










POSADA LAS FERNANDAS
Address: Independencia #502
Typical Mexican village Posada. Rooms are very simple, but have their own bathroom, hot water and TV. Cheapest single rooms in town. Run by a very friendly family. Two blocks from the town´s market.
Rates (per person/per night): Capacity of 40 persons 8 Rooms with 1 double size bed, 1 person: 185 pesos, 2 persons: 250 pesos 4 Rooms with 2 double size beds, 2 persons: 165 pesos / person 1 Room with 3 double size beds, 3 persons, 500 pesos








TEMASCALTEPEC HOTELS

In the Municipality of Temascaltepecwe have 10 sites such as: hotels, villas, condos, cabins and inns that offer accommodation with 134 rooms, with a capacity of 360 people, mentioning that peak occupancy percentage exceeds 100% this indicates that this service must bid more for all tourists to Temascaltepec relatives. Listed below are the most in demand: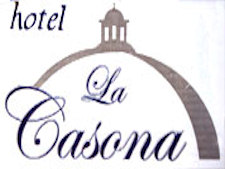 HOTEL LA CASONA
El hotel cuenta con una capacidad para 17 personas repartidas en 4 habitaciones.
Habitación Colibri: 1 cama King Size $1,360.00. Habitación Pericos: 1 cama King Size $1,629.00.
Habitación Zenzontle: 1 cama King Size y 2 camas individuales $2,497.00 Habitación Monarca: 2 camas matrimoniales y 2 camas individuales $2,763.00

Dirección: Calle Iturbide 26, Col. Centro, 51300 Temascaltepec de González, Mexico.

Contacto: +52 (716)266 5460.
+52 (722) 295 2494. Móvil.
contacto@lacasonamexico.com
https://www.facebook.com/HotelLaCasonaTemascaltepec/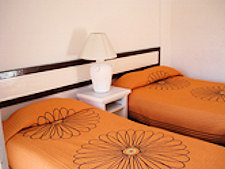 HOTEL DEL REAL
El hotel cuenta con 29 habitaciones de ocupación triple. Habitación doble: $440.00
Habitación triple: $500.00

Dirección: Vicente Riva Palacio 3, Col Centro, 51300, Temascaltepec, de González, Mexico.

Contacto: +52 (716) 266 5102.
+52 (716) 266 5101.
https://www.facebook.com/Hotel-del-Real-1478296549050063/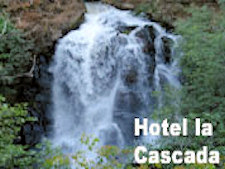 HOTEL LA CASCADA
Habitación Familiar: 1 a 3 personas $450.00.
Habitación Familiar: 4 personas $550.00.
Habitación Familiar: 5 personas $650.00.
Habitación Familiar: 7 personas $750.00.
9 habitaciones dobles: $300.00

Dirección: Carretera Federal Toluca Temascaltepec KM.66 Col. Barrio la Cascada, 51300, Temascaltepec de Gonzalez, México.

Contacto: +52 (716) 266 5410.
+52 (722) 24 54 8 71. Móvil.
+52 (722) 86 48 8 78. Móvil.
xxchazscoxx@hotmail.com
https://www.facebook.com/Hotel-La-Cascada-361085474353776/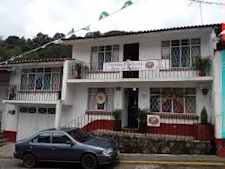 POSADA FAMILIAR REAL DE MINAS
El hotel cuenta con 5 habitaciones.
Habitación Familiar: 1 a 8 personas $1.000.00.
Habitación triple: 3 personas $400.00.
Habitación doble: 2 personas $400.00.
Habitación cuádruple: 2 a 4 personas $350.00.
Habitación doble: 2 personas $250.00

Dirección: Iturbide 18, Col. Centro 51300, Temascaltepec de González, México.

Contacto: +52 (716) 266 5290.
https://www.facebook.com/Posada-Familiar-Real-De-Minas-1813055415651241/